A SURVEY STUDY OF TERMITES IN ADEN GOVERNORATE - YEMEN
Nasser S. Ba-Fadel

Biology department, Shabwah education, Aden University

Saeed A. Ba-Angood

Department of Plant Protection, Faculty of Agriculture, Aden University

Abdullah N. Al-Hindi

Biology department, Aden education, Aden University
Abstract
Termites are distributed in the tropical and semitropical areas which include the Arabian Peninsula. Thirty-three species of termites were recorded in the Arabian Peninsula especially in the southwestern of Arabia which related to the fauna of tropical Africa (Ethiopian region). This study aims to record the termite species in different habitats in Aden governorate. The samples of the termites collected by broken the dry trees, subway on the wall, covers of the old houses and windows and wood doors from five different regions from Aden during the period of November 2016 to November 2017. The result reveals four species of termites, which are: Heterotermes sp., Microcerotermes sp1, Microcerotermes longignathus and Amitermes messinae (Fuller, 1922) which related to three genera that belong to two families: Termitidae and Rhinotermitidae. The species Microcerotermes longignathus is the first record in Aden governorate, While Heterotermes sp is considered the most widespread in Aden governorate with 64%.
Keywords:
Termites, Distribution, Species, Aden, Yemen.
Downloads
Download data is not yet available.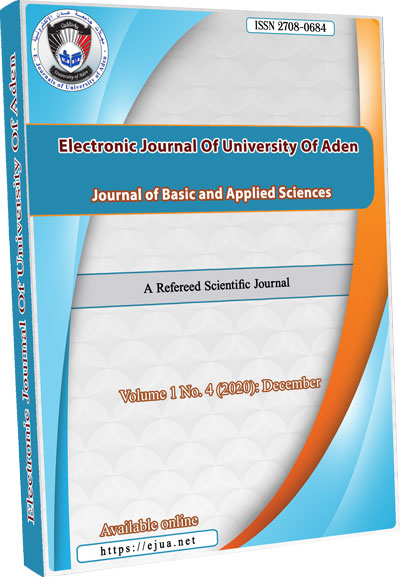 How to Cite
Ba-Fadel, N. S., Ba-Angood, S. A., & Al-Hindi, A. N. (2020). A SURVEY STUDY OF TERMITES IN ADEN GOVERNORATE - YEMEN. Electronic Journal of University of Aden for Basic and Applied Sciences, 1(4), 175-180. https://doi.org/10.47372/ejua-ba.2020.4.54
Copyright (c) 2020 Nasser S. Ba-Fadel, Saeed A. Ba-Angood, Abdullah N. Al-Hindi
This work is licensed under a Creative Commons Attribution-NonCommercial 4.0 International License.