COMPARATIVE EVALUATION OF PHYSICAL PROPERTIES OF SOME YEMENI CRUDE AND FUEL OIL
Rokhsana Mohammed Ismail

Dept. of Chemical, Faculty of Science, University of Aden, Aden, Yemen

https://orcid.org/0000-0002-9787-485X

Fatima Sahleh Nagi

Dept. of Chemical, Faculty of Education - Aden, University of Aden, Aden, Yemen
Abstract
Due to the high significance of crude oil to modern society as a source of energy and as raw material for a wide chemical and petrochemical industries; in this study, we evaluate the characteristics of certain Yemeni crude, and fuel oils specifically Mareb crude oil blend, Masila crude oil blend plus two samples from Sounah and Hijah oil fields in Masila basin. The general specifications of these crudes and fuel oils are determined and compared with some other regional and international types including Brent and West Texas benchmark crudes using the published data in the specialized literature. It is revealed that Mareb crude oil blend is the lightest and sweetest crude oil followed by Sounah crude while Masila is considered Medium crude and Hijah field is the heaviest with medium sulfur content. Mareb, Masila blends, and Sounah field fuel oils are considered low sulfur fuel oils with sulfur content below the 1% standard marketable fuels; while the Hijah fuel oil slightly above, and this is absorbed within the marketable blend.
Keywords:
Crude, Fuel oil, Mareb, Masila oil, Characterization.
Downloads
Download data is not yet available.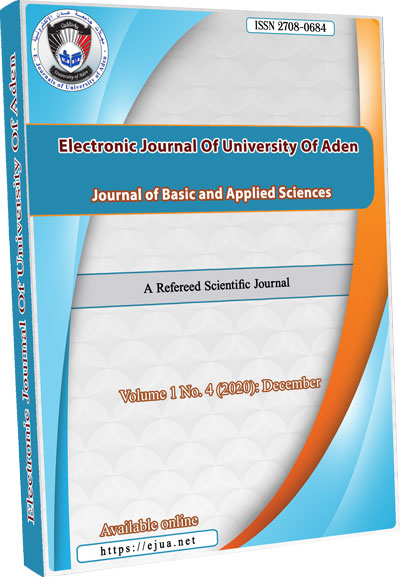 How to Cite
Ismail, R. M., & Nagi, F. S. (2020). COMPARATIVE EVALUATION OF PHYSICAL PROPERTIES OF SOME YEMENI CRUDE AND FUEL OIL. Electronic Journal of University of Aden for Basic and Applied Sciences, 1(4), 186-192. https://doi.org/10.47372/ejua-ba.2020.4.56
Copyright (c) 2020 Rokhsana Mohammed Ismail, Fatima Sahleh Nagi
This work is licensed under a Creative Commons Attribution-NonCommercial 4.0 International License.