ESTIMATION OF PHYSICAL AND CHEMICAL PROPERTIES OF GROUNDWATER OF SELECTED AREA FROM AL-DHALIA DIRECTORATE, AL-DHALIA GOV., YEMEN
Mohamed Muthana Taher

Department of Chemistry, Faculty of Education-Al-Dhalia, University of Aden, Yemen

Shaif Mohamed Kasem Saleh

Department of Chemistry, Faculty of Science, University of Aden, Yemen

Bassem Obaid Ali Saif

Department of Chemistry, Faculty of Education - Radfan, University of Aden, Yemen
Abstract
In this study, the concentrations of the physical properties such as the acidity number (pH), temperature (T), electrical conductivity (EC), total dissolved solids (TDS) and total hardness (TH) and, the chemical properties such as calcium (Ca2+), magnesium (Mg2+), sodium (Na+), potassium (K+), nitrates (NO3-), sulfates (SO42-), bicarbonate (HCO3-), phosphates (PO43-), fluoride (F-), and chloride (Cl-) in the groundwater in selected areas in Al-Dhalia district, Al-Dhalia,  governorate were determined by collecting water samples from 16 wells and thereafter the samples were analyzed, in the laboratory of the water resources authority in Aden, according to the recommended methods mentioned in the literature. The analysis results showed that most of the well water is not suitable for drinking due to their contents of some chemical and physical properties were exceeded the maximum permissible limit for WHO (1997) and Yemen ministry of water and environment (YMWE,1999).
Keywords:
Physical and chemical properties, Groundwater, Al-Dhalia district Al-Dhalia Governorate.
Downloads
Download data is not yet available.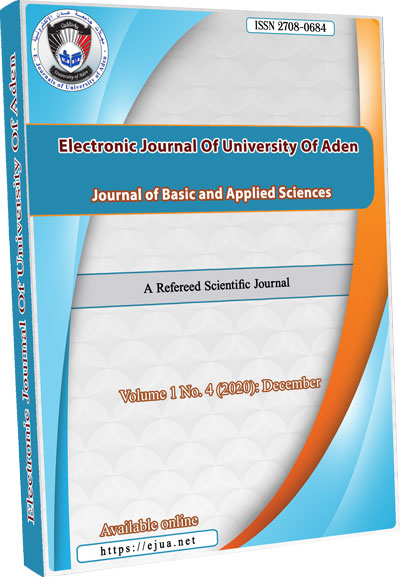 How to Cite
Taher, M. M., Saleh, S. M. K., & Saif, B. O. A. (2020). ESTIMATION OF PHYSICAL AND CHEMICAL PROPERTIES OF GROUNDWATER OF SELECTED AREA FROM AL-DHALIA DIRECTORATE, AL-DHALIA GOV., YEMEN. Electronic Journal of University of Aden for Basic and Applied Sciences, 1(4), 208-217. https://doi.org/10.47372/ejua-ba.2020.4.58
Copyright (c) 2020 Mohamed Muthana Taher, Shaif Mohamed Kasem Saleh, Bassem Obaid Ali Saif
This work is licensed under a Creative Commons Attribution-NonCommercial 4.0 International License.