PHYSIOLOGICAL STUDY OF OLIVE OIL EFFECT ON IBUPROFEN-INDUCED LIVER AND KIDNEY DYSFUNCTION IN LOCAL MALE RABBITS
Abdulrahman Salem Omer Yaseen

Department of Biology, College of Sciences, Hadhramout University, Hadhramout, Yemen

Khaled Saleh Omer Abdulmanea

Department of Food Science & Technology, College of Environmental Science & Marine Biology, Hadhramout University, Hadhramout, Yemen

Rafat Mohsen Hussein Salem

Department of Biology, College of Sciences, Hadhramout University, Hadhramout, Yemen
Abstract
Ibuprofen (IB), is one of the common nonsteroidal anti-inflammatory drugs (NSAIDs), it is mostly used for the management of pain, fever, and inflammations. In addition to its beneficial effects; IB has also been reported to be associated with some adverse effects. Thus, the present study was aimed to investigate the possible beneficial effects of olive oil (OO) against the IB -induced dysfunction of liver and kidney parameters in male rabbits. This study was conducted on 18 local male rabbits weighing between (900 - 1000 g) for 30 days, rabbits were divided into three equal groups; control group (C), ibuprofen group (IB), and ibuprofen +olive oil group (IB + OO), each group included six rats. At the end of the experiment, blood samples were collected for biochemical assessment of the liver and kidney functions. The results showed that IB caused a significant increase (P˂ 0.001) in alanine aminotransferase (ALT), aspartate aminotransferase (AST), alkaline phosphatase (ALP), urea (Ur), creatinine (Cr), and uric acid (UA). A significant decrease in the total protein (TP) and albumin (AL) (P˂ 0.001) and (P˂ 0.05) respectively showed in the IB group compared to the control group. Treatment rabbits with OO showed significant improvement in renal and liver functions; the activity enzymes of ALT, AST, and ALP significantly decreased, and the levels of TP and AL significantly increased. The current results were in agreement with other previous studies which informed that the IB has adverse effects on the functional capacities of the liver and the kidney. Further studies are needed to evaluate this ameliorative effect of OO on other medicines and pollutants.
Keywords:
Ibuprofen, Olive oil, Liver function, Kidney function, Rabbits.
Downloads
Download data is not yet available.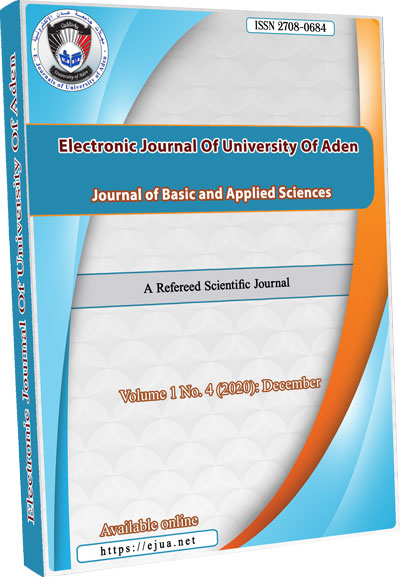 How to Cite
Yaseen, A. S. O., Abdulmanea, K. S. O., & Salem, R. M. H. (2020). PHYSIOLOGICAL STUDY OF OLIVE OIL EFFECT ON IBUPROFEN-INDUCED LIVER AND KIDNEY DYSFUNCTION IN LOCAL MALE RABBITS. Electronic Journal of University of Aden for Basic and Applied Sciences, 1(4), 218-224. https://doi.org/10.47372/ejua-ba.2020.4.59
Copyright (c) 2020 Abdulrahman Salem Omer Yaseen, Khaled Saleh Omer Abdulmanea, Rafat Mohsen Hussein Salem
This work is licensed under a Creative Commons Attribution-NonCommercial 4.0 International License.