HPLC-ESI-MS ANALYSIS OF SOME BIOACTIVE SUBSTANCES IN TWO YEMENI MEDICINAL PLANTS
Adel A. M. Saeed

Dept. of Chemistry, Faculty of Science, University of Aden, Aden, Yemen

https://orcid.org/0000-0002-1154-2994

Aisha Mohammed Ali

Dept. of Chemistry, Faculty of Education, University of Aden, Aden, Yemen

Taha Abubaker Fdhel

Dept. of Chemistry, Faculty of Education, University of Aden, Aden, Yemen
Abstract
Plants have abundant bioactive components and play an important role in folk medicine, owing to their health benefits in the treatment of many diseases, partially due to the secondary metabolite compositions. Nonetheless, detailed information on these substances is still limited. The recent work was aimed at investigating the bioactive substances of two Yemeni medicinal plants (i.e. Plectranthus asirensis and Plectranthus amboinicus) using reversed-phase high-performance liquid chromatography-electrospray ionization-mass spectrometry in a positive ionization mode. The proposed method provided a tentative identification of several constituents such as alkaloids, fatty acids, steroids, and terpenoids. The obtained results highlight the importance of studied plants as a promising natural source of bioactive compounds.
Keywords:
Medicinal plants, P. asirensis, P. amboinicus, Bioactive components, HPLC-ESI-MS.
Downloads
Download data is not yet available.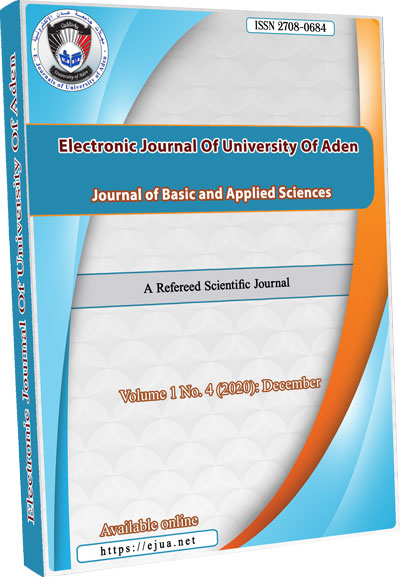 How to Cite
Saeed, A. A. M., Ali, A. M., & Fdhel, T. A. (2020). HPLC-ESI-MS ANALYSIS OF SOME BIOACTIVE SUBSTANCES IN TWO YEMENI MEDICINAL PLANTS. Electronic Journal of University of Aden for Basic and Applied Sciences, 1(4), 225-235. https://doi.org/10.47372/ejua-ba.2020.4.60
Copyright (c) 2020 Adel A. M. Saeed, Aisha Mohammed Ali, Taha Abubaker Fdhel
This work is licensed under a Creative Commons Attribution-NonCommercial 4.0 International License.